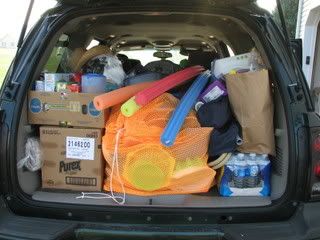 As you may have noticed (and someone astutely pointed out) it looks like we were moving instead of going on vacation. A lot of that had to do with my sons food allergies. I had to bring a lot of "safe" food for him, because he is still little and a picky eater and also because his food allergies are so numerous. All of the "dry" goods are packed in our car. We brought cereal, safe pasta, tomato sauce, snacks, flour mix to make pizza crust, safe bread, raisins, shelf stable soy milk, etc. I also packed a cooler with Silk Soy Yogurt because I didn't know where I could score any in Ocean City. The other food items that needed to stay cold would be bought once we got there. I map quested the local grocery from the hotel and I already had called ahead to
Ocean City Organics
to make sure that they had his safe waffles, soy ice cream and margarine. Throw in things like fresh fruit and he should be able to eat for the time we were there.
I did check out local restaurants to see if anything looked like it would be able to accommodate us, and the only thing that looked promising was a steak house. Unfortunately he won't eat steak and he's very picky about his chicken (he's 3 so it goes with the territory) so that was out. The other thing that looked like a "maybe" was
Dippin Dots
. They have a sherbet ice cream that looked safe for his allergens, but I wouldn't know for sure until we got there. Dippin Dots ice cream is little balls of cryo-frozen ice cream and if you've ever been there you can see that as they scoop them out, they roll around and get in the other ice cream containers. So unless they opened a new container for him and used a clean scooper or unless they had something prepackaged, Dippin Dots was out too. It was out. When I asked if they had anything safe for food allergies, the young girl gave me a blank stare and said "Um, I don't know". Oh well.
I also e-mailed the OC Chamber of Commerce to see if they knew of any allergy friendly restaurants or restaurants that catered to food intolerances and they e-mailed me back saying that they had no idea what I was talking about.
The other thing I did was to e-mail the hotel about a month before our vacation and inquire if their restaurant was able to accommodate his allergies. I never got a reply so I assumed that it was a no go and my comfort level with the restaurant was 0 at that point. I did look on the menu and the only thing that looked safe was bacon. I bought bacon at the
grocery store
any way so there was no point in pursuing the matter.
Even though we stayed in an efficiency suite and all of the pots, pans, and appliances would be there, I still have to bring my own. I brought our own toaster for the waffles. Their toaster would have toasted "regular" bread and would have been contaminated. I also brought our own pizza pan, mixing spoons, measuring cups etc. to be on the safe side.
The last "food" issue I had to think of was "what is he going to eat on the trip there and back" (a 9 hour car ride)? The most popular restaurant along the freeway is McDonald's and he can't eat there. So I packed a picnic lunch instead and we stopped to eat along the way. I also packed an overabundance of snack items and water. Also, I wrote down every exit we passed that had a Burger King since their fries are safe for him (for the return trip). I still went in to make sure that it really was safe, but he did get some fries on the way home along with the lunch we packed.
We all ate breakfast and lunch "in", but hubby and Older Boy would go out and pick up what they wanted for dinner while I made dinner for the Little Man. It worked out well. I made the safe pizza the night they picked up pizza, Tinkyada pasta and tomato sauce the night we ate Italian, and we had lots of safe french fries, hot dogs, tater tots, lunch meat, etc. for other nights plus left overs. For a treat he had his soy ice cream with safe sprinkles that I picked up at OC Organics and I had brought safe chocolate chip cookies that I made the night before we left. I never want him to feel left out or cheated. I don't think that he did.