Norma, at
Collecting My Thoughts
posted a recipe for salt dough today on her Monday Memories. She reminded me what fun we had as kids with this, making mostly Christmas ornaments at school to give to our parents as gifts. My older son loves to do crafts and would really enjoy working with this and painting it afterwards. Due to the Little Mans food allergies, it would not be safe for us to use traditional "salt dough" at our house, so I found a recipe for a Gluten Free version in "The Kid Friendly Food Allergy Cookbook" by Leslie Hammond and Lynne Marie Rominger. I'll make some of this later and let the kids play with it and let you know how it does. Let's hope it works out better than the cookies did this weekend :).
Clay Dough
1 Cup White Rice Flour
1 Cup Salt
3/4 Cup Water
1. Mix all ingredients together in a bowl. Roll the dough into a firm ball. If the mixture is too crumbly, add additional water 1 teaspoon at a time.
2. Have children make snowmen, or use cookie cutters to make shapes.
3. Line cookie sheet with tin foil and let dry completely, for at least 1 day.
4. If you'd like, you can bake the clay dough at 200 degrees F for about 30 minutes before painting.
UPDATE:
We made the Clay Dough and it turned out pretty good!
The directions said to add more water if it was crumbly, and mine was weak and sticky so I ended up adding more rice flour. The boys had fun with it. Their creations are now drying and waiting to be painted.
Here's what it looked like: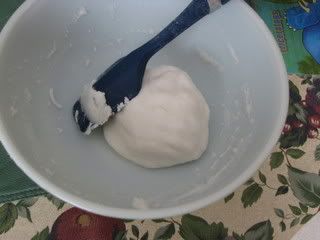 The Boys getting ready to create (and make a giant mess):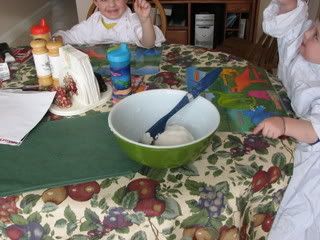 The final product: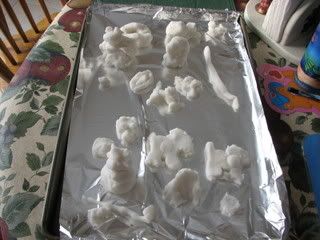 Please don't ask me what their "art" is. I think it's abstract: